Samsung's one-stop sales resource for mobile field sales managers and retail sales associates.
Field sales managers and retail sales associates are responsible for having continuous knowledge of all devices to effectively answer any questions about their features, specs and compatibility.
Historically, printed launch kits were provided for each device, filled with collateral and promotional items. These were a huge cost investment, and any changes in features or specs required a reprint and quite frankly, time.
We needed to find a way to equip these reps with content that could be easily scanned through, accessible 24/7, and most importantly, kept up to date. The type of resource that could affect Samsung's bottom line; because ultimately, product knowledge equals product sales.
Create and maintain a website as a responsive one-stop sales enablement resource with open two-way communication.
Focus groups were conducted with 30 field sales managers from around the U.S. to offer insight on how to make the site a truly viable tool. We utilized this information to create wireframes and guide our design.
What started as a single splash page in 2017 has turned into an eight-page site filled with product spec cards, comparison charts, how-to videos, FAQs and more. We continually add detailed, up-to-date device information in a way that is both cost-effective, adaptable, and tractable through Google Analytics.
Reps can reach out with any questions through the contact form, and we invite feedback on how best to optimize the site for their needs. This type of feedback loop has already resulted in the addition of two pages to the navigation.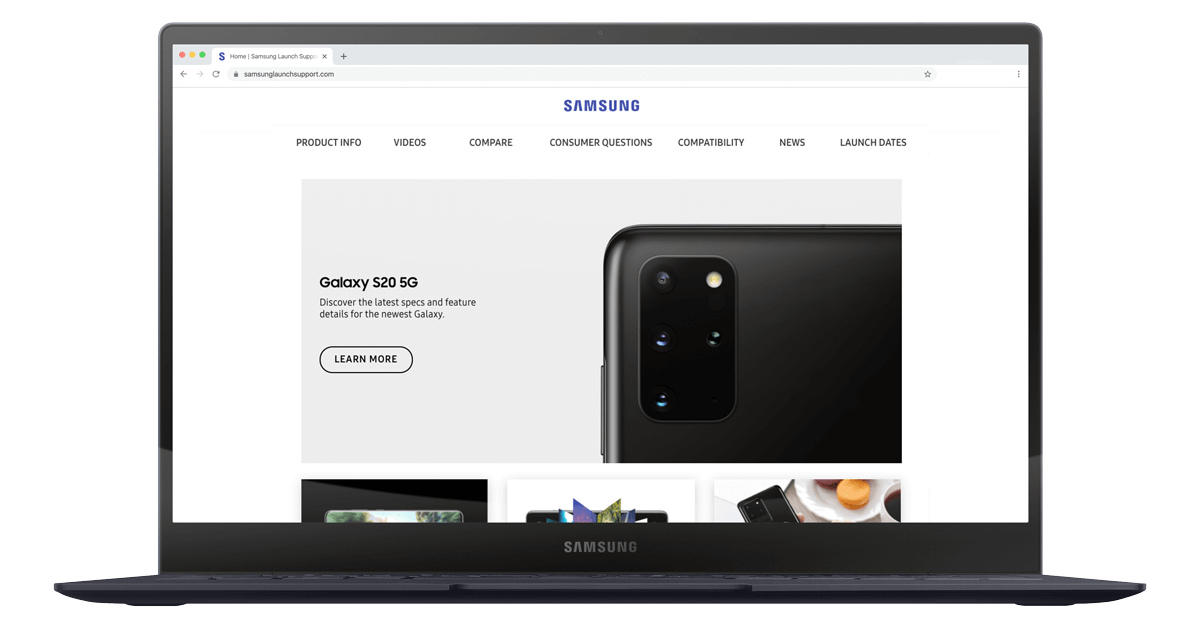 To promote the launch of the site, we distributed NFC bracelets to various retailers and carrier locations for the Galaxy S9 release. Within the first month of their delivery, the bracelets accounted for almost 96% of our total site traffic.
We were able to implement this strategy again with subsequent device launches, later using NFC keychains as well as specific QR codes.
In addition to these campaigns, we continually leverage Samsung's existing partnerships to help create referral traffic through internal web banner promotions.
Between 2018 and 2019, we saw a 2,116% increase in site interactions. In 2019, a third of our overall traffic was coming directly to the site, indicating that users are aware the information is out there, and that it is useful to them.
2,116% increase in site interactions
In 2019, we launched email marketing as an ongoing initiative to reach the following goals: increase site awareness, drive traffic, create engagement with users and gain more metrics on which portions of the site are highly trafficked (and where there could be gaps).
Within the first year of adding a sign-up functionality on the site, we had nearly 10,000 subscribers, showing that visitors are interested in getting updates delivered straight to their inbox.
We continue to send emails surrounding device launches and campaigns, garnering an average open rate of 15.8%.