The Simians are a collection of custom toy figurines created by Monkeytag.
The Simian's origins are rooted in the same space race reference that inspired the founders of Monkeytag. Able and Baker, the two monkeys who successfully traveled into space and back, initially sparked the idea to develop a new brand with its own cast of characters.
The story of The Simians begins with two monkeys, Able6 and Baker5, blasting off into space and encountering a mysterious being, Zhno, who intercepts their craft. Zhno leads them on a mission to another world where the next character, Apex, is introduced. These four monkeys represent the first cast of characters in telling new tales of space travel and intergalactic adventures.
The overall goal of The Simians development and creation was to make its brand, logo, and characters appealing to everyone.
We needed to design a logo that would be recognizable not only by its name, but also by its design. The team illustrated a branding solution that was stylized and slightly arched to give it a look of symmetry and familiarity.
Our color choices were inspired by both the existing array seen in pictures of the universe, as well as the imagined range found on different planets.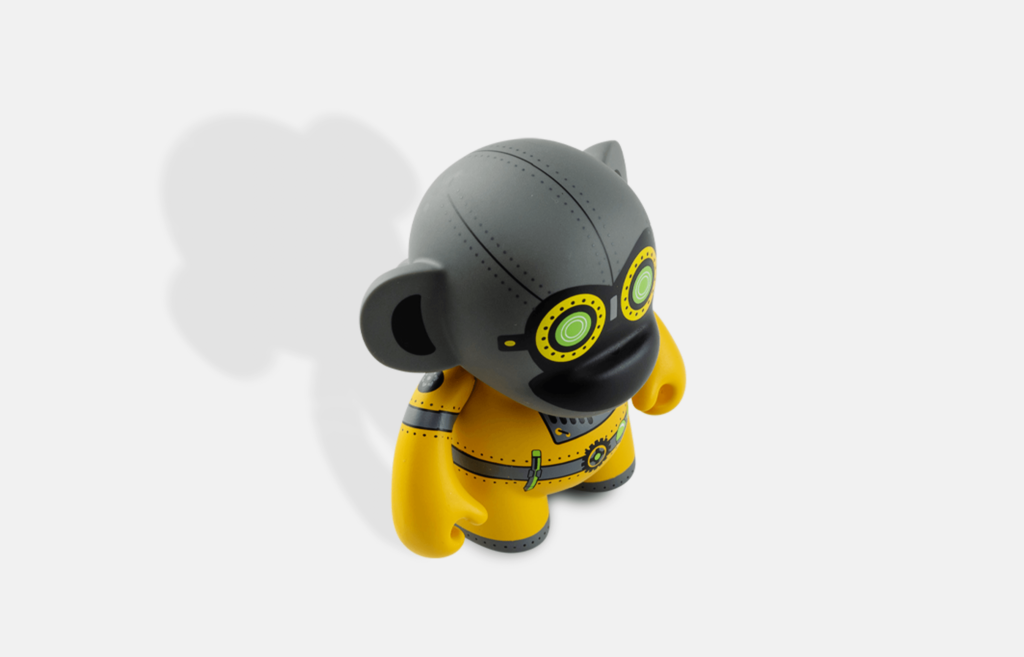 We then set out to make these characters come to life as collectible toys. The team designed each character's look and feel with 2-dimensional artwork, which was then used to collaborate with artists at Shinbone Creative to craft their 3-dimensional toy form. This process prepared them for production.
As the final step, the team designed a gradient teal box that featured an enlarged view of the characters around three sides of the box. The front of the box featured the primary characters Able6 and Baker5, while Zhno and Apex were positioned on either side. The back panel of the box showcased all four characters, along with an empty white circle to manually indicate or mark which one was inside.