At Monkeytag, we use the paid Elementor Pro page builder plugin tool to create and manage our website's content via WordPress. Plus, we use Pantheon to host our site environments to safely ensure our development updates ONLY go live once tested and approved. This gives you the flexibility to work in all your environments.
Note: We built our website with this approach to act as a working demo to show clients who prefer using a WordPress page builder.
What's New
Recently this year (January 2021), Elementor Pro released an update to its plugin that would expand its Elementor licensing to include staging sites. This meant that we could now use Elementor Pro on all of our Pantheon staging environments without affecting our primary license.
How it Works
Elementor Pro users have a set amount of licenses you can connect to websites. For example, if your website is yoursite.com, then using dev.yoursite.com will NOT be considered a used license as it was before.
With this recent update, you can now set up a dedicated staging subdomains with Pantheon.
For Pantheon, your subdomain environments will look as follows:
dev-yoursite.pantheonsite.io
test-yoursite.pantheonsite.io
live-yoursite.pantheonsite.io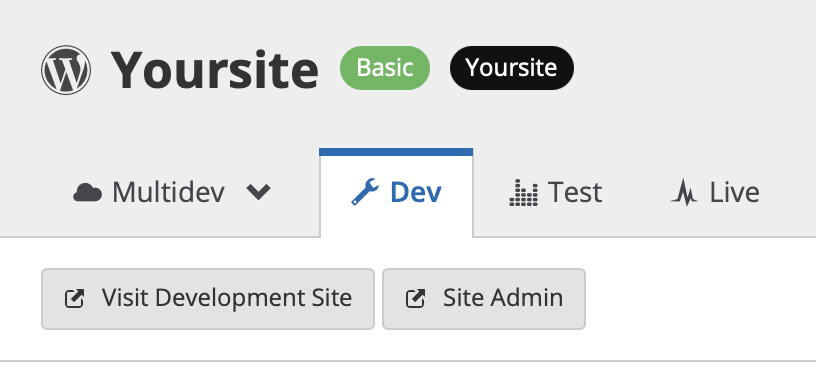 Activating Your Site
We activated our Elementor Pro license first with our "dev" subdomain when we initially built out the site. Once we cloned and committed those builds to our Pantheon "live" environment, we then activated our same Elementor Pro account license to each environment (dev, test, live) with no issue.
Note: If you try to also activate the license on your primary domain (i.e., yoursite.com), it will likely trigger an activation error.
Tip: We make the Elementor page builder content changes to our "live" environment which then populates to our primary domain.
Related: Click the link if you would like to learn more about how a Pantheon environment workflow is structured.