VIP kits are distributed by Samsung to help create buzz around their iconic device launches.
VIPs are constantly inundated by companies vying for their endorsement, so from the moment a package arrives, it needs to pique their curiosity and interest. The ultimate goal is to persuade the recipient to use and recommend the product – in this case, the Samsung Galaxy S9+.
We needed to find a way for our VIP kits to stand out amongst the sea of brown and white shipping boxes, while also creating an experience for opening up to the device.
We applied the same design aesthetic to the shipper box as the interior packaging, using a sleek black with Samsung's signature blue. Additionally, we added vanity labels that personalized the box, giving it a handcrafted, custom appeal.
The Galaxy S9+ was angled straight up when the recipient hinged opened the box. This method is not only unconventional; it invites VIPs to pick up the phone within seconds, ideally developing an immediate sense of ownership. Nestled behind the phone were premium accessories, positioned as a "package" deal.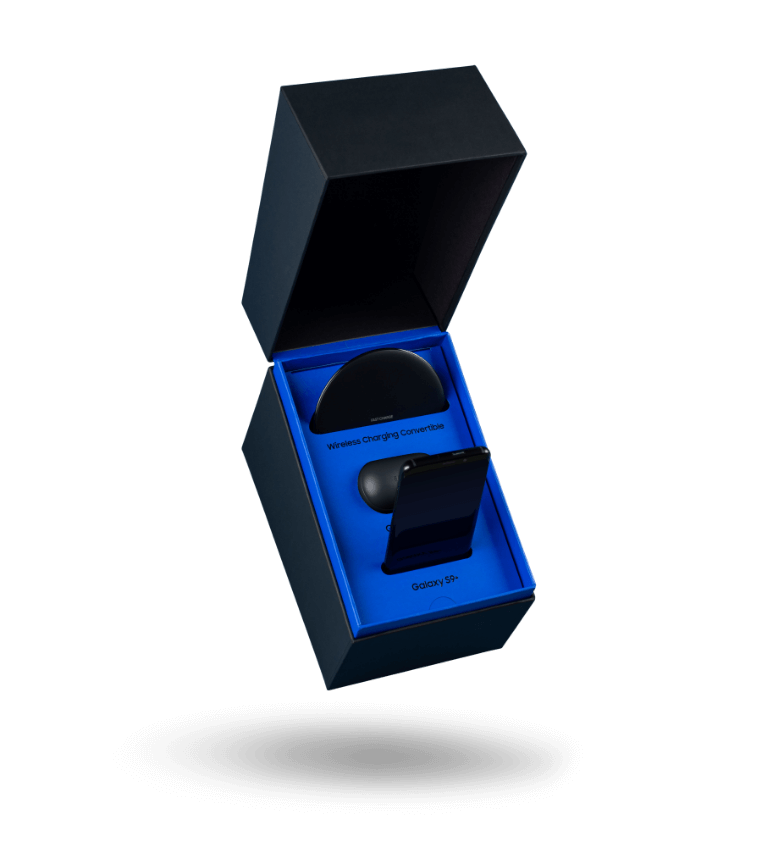 Multiple teams within Samsung adopted and shipped out these kits to their VIPs. The PR team hosted a launch event that showcased the kits on display, gifting them to invitees. The kit also appeared in a video on IGN Entertainment's website, where two of their hosts walked viewers through the unboxing. Overall reviews were glowing, and the dramatic display of the phone was a notable hit amongst our client and their VIPs.