Are your digital marketing channels a direct reflection of your brand? Do they tell a compelling story, strong enough to convert potential customers? Whether you have an established digital presence and are looking to take it further, or your brand is just now moving online, we can help.
Who's we? We are Monkeytag, a Dallas and Los Angeles-based marketing agency specializing in branding and digital solutions for both local and national brands. We're a group of energetic and avid explorers, searching for ways we can reach the right audience with the right message.
Digital Marketing Capabilities
Social Media Marketing

Search Engine Marketing

Email Marketing

Analytics and Reporting
It's important to understand which online platforms make the most sense for your brand. We aim to integrate various digital strategies such as social media, search engine marketing, and email marketing to help capture your target market any time of day.
We set it, and don't forget it.
When we're running a digital campaign for a client, we're constantly monitoring analytics, as well as interactions, to ensure we're utilizing your marketing dollars effectively. Think of us as professional fiddlers, tweaking and testing different strategies to optimize an ad or email's performance.
One does not simply "cross-post."
Content is important, and needs to be specific to each channel. We spend time getting to know your brand, looking for those key value propositions that set you apart. We understand that what makes a great social post isn't the same feeling we're targeting with a paid ad. Separate strategies for separate channels are our way.
Avoid the dreaded unsubscribe.
Our intention with email is to make the content feel valuable to your subscribers. We tailor the message to specific users and managed groups on your list, versus sending out the same mass email to all. We utilize drip campaigns, implementing a planned cadence triggered by factors such as form sign-ups, abandoned carts, and even the weather. To top it off, we create subject lines that sing (not literally though, we're still working on that).
The path to a commanding digital presence.
Our team will take a look at any of your existing digital channels to discuss areas of improvement.
We'll determine which channels to utilize based on your target audience, offerings, and budget.
Then we get down to building out your campaigns, along with customizing creative for each.
Once we go live, we're all hands on deck to monitor and make tweaks, working to reach your business goals.
We'll continually send you important data and analytics, without burying your results in vanity metrics.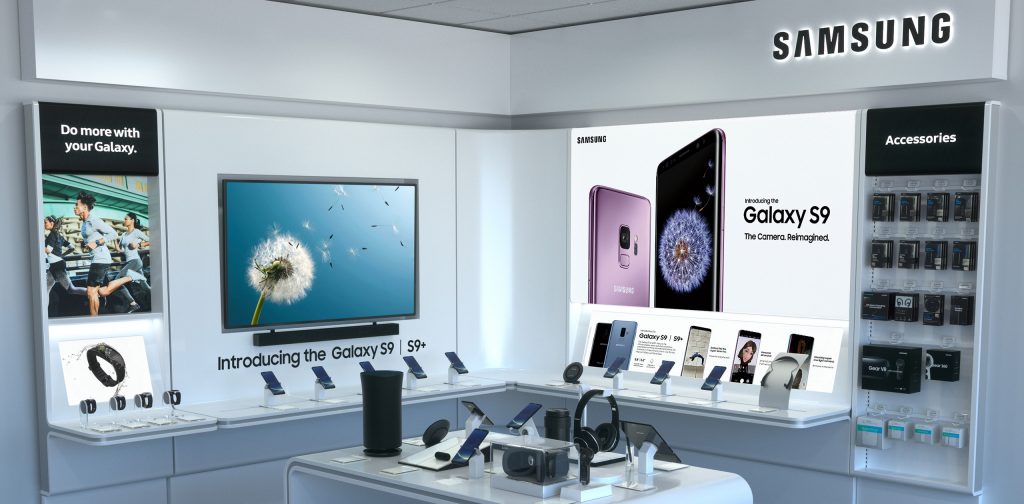 Samsung uses 3D renderings to sell in their marketing and merchandising plans for retail environments.
See More »
How we stand out in the crowd
With an independent agency, you can expect accountability and transparency. We foster original thinking and innovation, and prioritize speed-to-market for any quick-turn projects.
We build customized, scalable solutions
We seek to understand your business, from both you and your customer's perspectives, to gain a broader perspective on any unique challenges.
We're transparent with costs
We believe transparency is a fundamental part of how we do business. We don't mark up or hide third-party costs in our project estimates.
We offer unique perspectives
Our team is made up of individuals with varied backgrounds whose experience provides unique perspectives to each project.
We focus on practical efficiencies
We understand the importance of time and cost when executing projects on our client's behalf, so we focus on practical efficiencies. We continually evaluate and adjust our processes, workflows, and pricing to ensure we are performing as efficiently as possible.
The relationships we have established with our contracted partners allow them to serve as an extension of our agency. Our transparent approach of including them as active project participants makes for stronger communication, agile adaptability, and true accountability.
Monkeytag helped us reach an expanded target audience with memorable creative and effective design across multiple channels. Especially effective was the website they designed for new audience. It continues to deliver great metrics for us after more than two years.
I can always rely on Monkeytag. No matter what timeline or curveball I presented them with, they always made our deadlines without compromising quality.
Whether it was a last-minute change to a VIP kit, or edits to a sales training booklet, Monkeytag is always there to get the job done.