Great print design is created at the intersection of meaningful content and thoughtful layout. It's a brand's identity, carried throughout an actionable set of materials. We can take your current marketing collateral from 0 to 60 by enhancing your existing pieces and creating solutions for future needs.
Who's we? We are Monkeytag, a Dallas and Los Angeles-based marketing agency offering print design for both local and national brands. We're a group of energetic and avid explorers, looking to bring on-screen designs off the screen and into real life.
Print Design Capabilities
Environmental Design

Product Packaging 

Promotional Marketing

Sales Collateral
Put your best offer forward.
We aim to create impactful store signage that is bold with its intention. For retail locations, that starts with window displays. We like to think of these placements as miniature art installations, beckoning passersby to come into your store.
Once inside, strategically placed signage can have a big impact on sales. Whether it's a table tent, fixture display, or a 10-foot wall vinyl, we can incorporate imagery and copy that gives the customer that "I need this in my life" feeling.
Let's give them something to talk about.
How about your product? Influencers play an important role in marketing, so it's vital to send them something they'll want to promote to their followers. Winning them over starts with presentation. We can design custom influencer packaging that delivers an experience just as premium as the product, enticing them to engage.
"I bought it because I liked the label."
While that sentiment rings especially true for choices made in the wine aisle, it certainly applies to other products as well. Packaging is one of your product's first impressions; it needs to grab attention, establish trust, and describe the product – all within the blink of an eye. We'll work to create a design that entices customers, collaborating with print vendors to create dielines and prototypes along the way to a final form.
Leave behind an impression.
With B2B sales collateral, we seek to understand how each piece will be utilized by your team. That way, we speak directly to the intended audience with customized messaging. We incorporate your brand assets to keep everything from brochures to spec sheets consistent. And when it comes to promotional products – instead of a wall calendar they'll never use, we'll find you this year's fidget spinner.
The path to marketing collateral creation.
We meet with you to understand what print pieces are needed, and then we get to the drawing board.
Once we've nailed down our ideas, we bring them to life with multiple options for your review.
We make revisions as needed from your feedback, paying close attention to the smallest of details.
We'll get your signoff on the final version, package the assets, and send them to print.
We handle the production process, going to press checks to ensure what you approved on-screen is what you'll see in the final form.
Recent Print Design Projects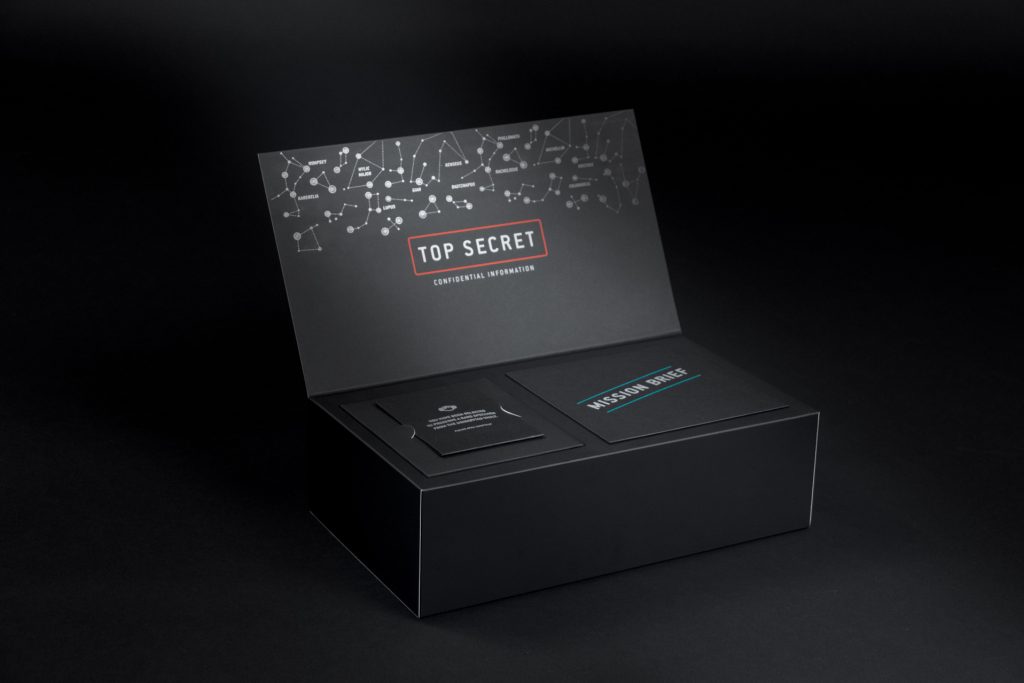 A custom agency holiday gift kit complete with a limited edition toy figurine.
See More »
How we stand out in the crowd
With an independent agency, you can expect accountability and transparency. We foster original thinking and innovation, and prioritize speed-to-market for any quick-turn projects.
We build customized, scalable solutions
We seek to understand your business, from both you and your customer's perspectives, to gain a broader perspective on any unique challenges.
We're transparent with costs
We believe transparency is a fundamental part of how we do business. We don't mark up or hide third-party costs in our project estimates.
We offer unique perspectives
Our team is made up of individuals with varied backgrounds whose experience provides unique perspectives to each project.
We focus on practical efficiencies
We understand the importance of time and cost when executing projects on our client's behalf, so we focus on practical efficiencies. We continually evaluate and adjust our processes, workflows, and pricing to ensure we are performing as efficiently as possible.
The relationships we have established with our contracted partners allow them to serve as an extension of our agency. Our transparent approach of including them as active project participants makes for stronger communication, agile adaptability, and true accountability.
Monkeytag has been a long-standing partner for us. From VIP kits to rep engagement programs, they are always willing to execute quickly and efficiently.
I can always rely on Monkeytag. No matter what timeline or curveball I presented them with, they always made our deadlines without compromising quality.
Whether it was a last-minute change to a VIP kit, or edits to a sales training booklet, Monkeytag is always there to get the job done.